I've slipped a few comedy albums into this column on occasion in the past, but I've barely scratched the surface of the albums you need to hear. In fact, while conceiving this entry, I came up with so many funny albums that I am going to make this Comedy Month (yeah, I know I started late, thanks) and spread all of them over 4 columns. This first batch consists of albums that are vital if you're going to claim to have any worthwhile knowledge of humor in recorded form.
The Firesign Theatre | Don't Crush That Dwarf, Hand Me The Pliers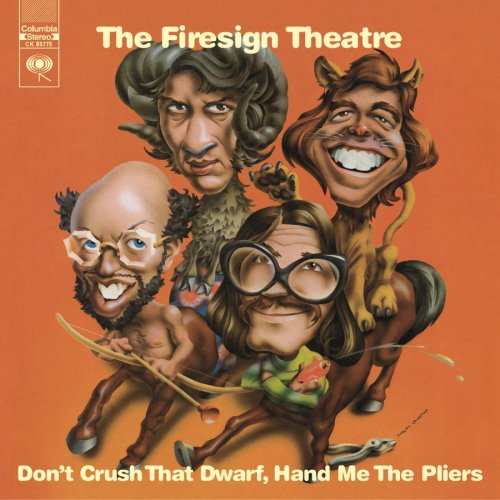 The Firesign Theatre were The Beatles of druggy, Dadaist comedy, and Don't Crush That Dwarf is their Sgt. Pepper's. The album loosely constructs its sketches around the story of washed-up child actor George Leroy Tirebiter, who watches himself on TV all night. This set-up allows the group to create bizarro-world versions of commercials (one for "Napalmolive"), televangelists, courtroom dramas, game shows, and the like. A lot of the album consists of a '50s high school movie parody that plays like Archie comics on acid. Don't Crush That Dwarf is best consumed as one 45-minute whole — and probably multiple times, to catch all the little asides that quietly populate the "backgrounds" of scenes, making this sort of the audio equivalent of a Zucker Brothers movie or Mad magazine.
Lenny Bruce | The Berkeley Concert
Lenny Bruce became a legend as the first comic to marry iconoclastic ideas to realistically R-rated language. Sure, comedians "worked blue" before Lenny Bruce, but they were just going for cheap, pervy laughs. Bruce had something to say: something numerous police departments were more than ready to bust him for. He broke down the barriers that led to the mainstream success of George Carlin, Richard Pryor, and countless other comics writing jokes about orgasms and cops. This amazing concert from 1965 is taken from his prime period, when he had shaken off the shtick-iness of his Catskills days in favor of a free-flowing stream-of-consciousness ramble, but had yet to become so obsessed by his legal woes that he would spend entire concerts dryly reading court transcripts. It's hard to synopsize the highlights, because Bruce's monologue feels less like a series of discrete bits and more like a good long bullshit session where the conversation flows easily and you're never bored.