It's summertime. Let's sing about it!
The Beach Boys | "Don't Go Near The Water" (from Surf's Up)
No American band has said more about the importance of catching waves and spending time at the beach than the oft-underrated/overrated/underrated again Beach Boys. In 1971, the Boys kicked off their Surf's Up album by imploring folks to stay out of the water because of – you guessed it! – all that gross pollution. "Toothpaste and soap will make our oceans a bubble bath," Al Jardine and Mike Love lament over an upbeat whiteboy funk groove typical of this era of the Boys' work. Sure, they sound as naïve as they did just a few years before extolling the virtues of a surfin' safari, but the song is damn catchy. And it's maybe more than a little appropriate for the folks on the Gulf Coast right about now.
The Morningsides | "Summer Song" (Single)
A kind of New York supergroup, featuring members of the retro-rock band The Wowz and singer-songwriter Chris Maher, The Morningsides only have one single from 2004 to their credit, but it's a keeper. The A-side, "Summer Song," features the soap opera-like antics of a star-crossed couple in the verses while the chorus pays tribute to summer radio anthems, the kind that have choruses as catchy as the one featured here. The band's sound has the same '60s garage rock crunch you find on a lot of Wowz songs, but the vibe is notably looser and noisier, bringing to mind Pavement. Maher's slightly strained vocals similarly recall Stephen Malkmus but not in a way that seems slavishly copied.
I had another topic ready for this week's Hidden Gems, but then Devo went and released their first studio album in 20 years on Tuesday. I haven't been able to concentrate on much that's not Devo-related since. So here's four less-than-obvious Devo songs you should check out.
"The Day My Baby Gave Me A Surprize" (from Duty Now For The Future)
Devo's second album Duty Now For The Future is often characterized as suffering from the sophomore slump. This is understandable, since the album's strongest songs are backloaded onto what would have been side two and lazy rock writers probably didn't have the patience to flip the album in search of the kind of giddy thrills the band's debut offered upfront. "The Day My Baby Gave Me A Surprize" is one of the album's shoulda-been hits. It features an oblique tale about a young man's joy at his sweetheart recovering from some sort of debilitating accident. It also has an unbelievably catchy chorus that is simply the exclamation "Wa-hoooo!"
"It Takes A Worried Man" (available on the Pioneers Who Got Scalped anthology)
In 1982, Neil Young had the crazy-ass notion to co-direct an apocalyptic comedy film with the actor Dean Stockwell, called Human Highway. He cast Devo as nuclear garbagemen. In the film, they sing an upbeat, poppy version of the folk-festival classic "Worried Man Blues" (here slightly retitled) while they cart around barrels of nuclear waste. (The band has also been known to perform the song when they pretended to be Dove – a Christian, leisure suit-wearing opening act for many '80s-era Devo shows. Here's a video of Dove in action.) The movie made it to VHS, but then faded into obscurity. Inspired somewhat by Devo, Neil Young released the synthesizer-driven album Trans… and eventually got sued for it. Apparently, everyone doesn't appreciate devolved music.
Over the past five years or so, the Chicago-based Numero Group label has established itself as one of the best reissue labels on the market. Numbering each release in a manner similar to the DVD giants at the Criterion Collection, the label's crate-digging efforts have revived the excellent work of a few has-beens and a lot of never-weres. I am an unabashed fan of this label's work, and I prize so many of their releases that it was hard to pick just four to feature, but here goes…
Eccentric Soul | The Capsoul Label
The first-ever Numero release introduces their most popular series, Eccentric Soul. The idea is simple: the folks at Numero find out about a creative soul-music record label off the beaten path (in the case of this collection, it was located in Columbus, Ohio) and they try to obtain as many master tapes (or, failing that, playable records) from the key figures at the label as they can. They also do their best to piece together the history of each label, which they retell in generous and picture-filled liner notes. This collection from the '70s highlights, among others, the supergroup-that-never-was Johnson, Hawkins, Tatum & Durr, the Sam-and-Dave-like Kool Blues, and deep-voiced ballad crooner Marion Black. By focusing on the best of each artist instead of going for completism, the album comes off sounding like a hits compilation of songs you just didn't happen to hear before. That said, the vocal group The Four Mints from this collection inspired Numero's first full-album reissue (of the Mints' Gently Down Your Stream) on their Asterisk imprint.
Wayfaring Strangers | Lonesome Heroes
One of the other main types of music Numero also tends to feature apart from soul is obscure work by '70s singer-songwriters, more often as full-album reissues, although the Wayfaring Strangers series skims the cream off of assorted other releases. To be honest, even as a folk fan, the first two entries in this series – focusing on female folkies and on acoustic guitar soloists – were pleasant, but kind of a snooze. This third entry, Lonesome Heroes, features male folkies, and successfully cherry-picks a bunch of occasionally oddball, emotionally direct, and affecting songs. As a frequenter of New York open mic nights, I can tell you the success of this compilation is quite a feat, because no one can be more annoying than a belly-aching male singer-songwriter. Despite that, this album works both as a sampler of different artists' work and as a top-notch folk mixtape with a sustained melancholic mood.
Live albums are often odd ducks. Even for bands who are known for being better in concert than in the studio, the magic doesn't always translate. Now, this column is far from definitive, but here are a handful of live tracks worth hearing.
The Whites Stripes | "Jolene" from Under Great White Northern Lights
The new White Stripes tour documentary Under Great White Northern Lights is excellent and may stand up over the years as one of the all-time great rock movies. The accompanying soundtrack, compiled from different shows throughout the movie's Canadian tour, is pretty good, though not as likely to be deemed a classic. The highpoint of the album, however, is the band's utterly memorable cover of Dolly Parton's "Jolene," which has an intensity and a sense of over-the-top melodrama that's mesmerizing. White's voice quavers as he picks arpeggios, singing from the point-of-view of a wronged woman pleading with a temptress who is out to take her man. Inevitably, the emotional dam breaks, and White lets his guitar squall and squeal while he lets out a few pained howls of "Jolene!" It's far more theatrical than the studio version, and it's dynamite stuff. Stream it here.
Tom Petty and The Heartbreakers | "Mystic Eyes" from The Live Anthology
The four-disc (or five-disc or seven-disc, depending on how "deluxe" your edition is) box set of live tracks by Tom Petty and the Heartbreakers that was released last year is not a for-completists-only collection. Anybody who likes their rock on the rootsy side will gobble up all the goodies that Petty has compiled from more than 25 years worth of shows. Also, each disc is so smoothly edited that it's impossible to tell that almost none of the back-to-back tracks are from the same show – or even from the same decade. The whole collection has a smattering of cool covers, and the second disc is bookended by two of the best. It starts off with an awesome version of Bo Diddley's "Diddy Wah Diddy" and closes with a 9-minute version of "Mystic Eyes," originally performed by Van Morrison's '60s band Them. Though they've long had a rep as a tight and concise band, Petty's Heartbreakers have gotten jammier as the years progress. This track is not at all indulgent though, as the band shifts flawlessly from simmer to boil and back again, without letting the tension subside. If you get bored or distracted at any point during this track, maybe you need to see a doctor about getting ADHD medication.
Now, I come to the end of my 4-part series on comedy albums you need to know. I started off with stone cold classics from the '50s, '60s, and '70s. Then I continued to mine material from the same era by black comedians and by funny old white guys. For this last installment, I'm entirely skipping the '80s and '90s (nothing really funny happened then anyway) and bringing you four albums from this past, hilarious decade. Enjoy.
Maria Bamford | Unwanted Thoughts Syndrome
Maria Bamford always seemed like one of the weaker links in the Comedians of Comedy group (at the risk of angering comedy nerds, I would suggest Brian Posehn is the weakest). Maybe it's because she's a woman. (Probably.) When I found a used copy of this CD/DVD combo in Other Music for $2.99, I wasn't expecting much. Damn, was I surprised. I immediately went and got all of Maria Bamford's albums. Comedy comes from pain, and it's obvious that Maria Bamford has led a painful life. She experiences not only standard-issue insecurity, but she has the kind of compulsions and crippling depression people go to doctors for. Her comedy relies on her playing different characters from her life, mimicking voices in a way that at first might seem too broad or gimmicky (that was my initial read). It turns out that Bamford's voices may be big, but they're not generic stereotypes; she makes very specific characterizations that bring a depth to her stories and make them resonate. This is even more pronounced in the webisodes of "The Maria Bamford Show" on DVD, where Bamford acts out scenes, playing all the characters (apart from her dog, Blossom).
Mike Birbiglia | My Secret Public Journal (Live)
When it comes down to it, Mike Birbiglia isn't a groundbreaking comic. He's pretty much your garden-variety observational comic, who leans more toward politeness than raunchiness (although he'll stick a punchline in now and again that is less than family-friendly). In fact, the whole concept of this album is that he is doing bits he originally wrote for his blog. Birbiglia, however, is solid. He consistently churns out relatable and sometimes laugh-out-loud funny bits, as long as he stays away from his guitar. (The Achilles' Heel of his albums are his "funny songs," which are best skipped.) The topics range from Catholic school to George W. Bush to parents accidentally getting a porn computer virus. See? Nothing you haven't been exposed to before. But Birbiglia's average-joe persona makes it all pretty palatable and downright enjoyable.
In the third part of my 4-part series on comedy albums worth knowing, I'm offering an alternative to last week's entry about Old Black Guys and allowing the under-represented contingency of white male comedians to get a column.
Andy Griffith | The Wit & Wisdom of Andy Griffith
Though obviously best known now as a TV star, both on the sitcom named for him and as the wily old lawyer Matlock, Andy Griffith's first gig in showbiz was retelling stories from history and literature in nightclubs. Definitely more of a monologist than a traditional stand-up, Griffith did for country bumpkins what Lord Buckley did for '50s beatniks. Where Buckley told the "hip" story of Jesus (renaming him "The Nazz") and rewrote Shakespeare's funeral oration from Julius Caesar to begin "Hipsters, flipsters, and finger-poppin' daddies, knock me your lobes," Griffith takes a similar tack, giving the story of Caesar's murder an earthy spin so that Brutus replies, "Yup, me too." Griffith also explains that Columbus decided to travel around the world because, "he hadn't gone to camp or nothin'." The best, and probably most famous, track from this album is "What It Was, Was Football," where an utterly bewildered Griffith describes being shoved by a pack of people into a stadium to witness a sporting event he is completely unable to comprehend. Despite the title of the track, Griffith never does figure out what they call that sport where those fellers run up and down in that cow pasture chasing a pumpkin.
Bob Newhart | The Best of Bob Newhart
Bob Newhart, like Andy Griffith, is now best known for his TV work on two classic self-titled sitcoms, although his comedy albums are what put him on the map. His debut was the first comedy album to make it to #1 on the album charts, beating out "real albums" full of music. This compilation is a handy sampler to show you why Newhart's so great (it has since been superseded by a 2-disc anthology of material from this period – but this particular collection is solid). Generally, a Newhart bit involves some high-concept idea – What if I was the security guard on duty in the building that King Kong decided to climb? What if modern-day PR people were already in place when Abe Lincoln was campaigning for president? – with Newhart making a speech or handling one half of a conversation (a lot of his bits are imaginary phone calls) with no partner to reply, leaving us to imagine the response of the crowd being addressed or the person on the other end of the phone. It's simple, and yet it's so deftly executed that the laughs come easily. I can't really think of too many other comedians who worked like this, so this is one-of-a-kind stuff.
In the second part of my 4-part series on comedy albums worth knowing, I'm highlighting 4 albums by black comedians from the '60s. (Next week is Old White Guys. Last week, if you missed it, was Stone Cold Classics). You'll notice I didn't include Bill Cosby or Richard Pryor. It's not because I don't love the crap out of their albums; I do (most of them). But this column is called "Hidden Gems," not "Gems Everybody's Heard Of."
Godfrey Cambridge | Live at the Hotel Aladdin
Godfrey Cambridge is remembered, if at all, as an actor who fluctuated between serious roles (unusually in blaxploitation flicks) and funny roles (like the bigoted whitey magically turned into a black man in Watermelon Man) the same way his weight fluctuated between heavy and slim. His stand-up work, though less remembered than his acting, is definitely worth checking out. During this set, taken from a show in Vegas (no doubt in front of a largely white audience), Cambridge deftly deals with racial issues in a showmanly fashion that neither alienates the white folks nor panders to them in stereotypical Stepin Fetchit style. Cambridge died at age 43 from a heart attack, probably from the constant back and forth with his weight, and this disc proves that a great talent was lost. You can hear the album over at this blog.
Redd Foxx | On The Loose Recorded Live


Redd Foxx is legendary for inspiring top black comedians like Richard Pryor and Eddie Murphy, by making best-selling "party records" full of jokes about normally unmentionable things — mostly sex — starting in the '50s. This set is from the late '60s, and what is unusual to the modern listener is Foxx's distinctly old-fashioned style. He tells jokes like your dirty-minded uncle tells you jokes — set-up, punchline, set-up, punchline — not like more observational or storyteller-type comedians of recent years. But he gets the laughs. My favorite joke from the album: "Do you know the difference between a light sleeper and a hard sleeper? A light sleeper sleeps with a light on and a hard sleeper can sleep through anything."
I've slipped a few comedy albums into this column on occasion in the past, but I've barely scratched the surface of the albums you need to hear. In fact, while conceiving this entry, I came up with so many funny albums that I am going to make this Comedy Month (yeah, I know I started late, thanks) and spread all of them over 4 columns. This first batch consists of albums that are vital if you're going to claim to have any worthwhile knowledge of humor in recorded form.
The Firesign Theatre | Don't Crush That Dwarf, Hand Me The Pliers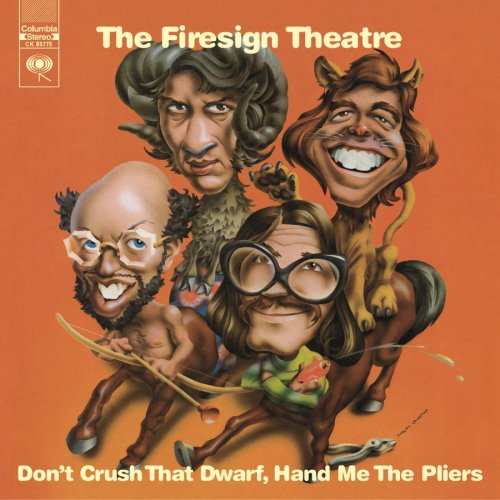 The Firesign Theatre were The Beatles of druggy, Dadaist comedy, and Don't Crush That Dwarf is their Sgt. Pepper's. The album loosely constructs its sketches around the story of washed-up child actor George Leroy Tirebiter, who watches himself on TV all night. This set-up allows the group to create bizarro-world versions of commercials (one for "Napalmolive"), televangelists, courtroom dramas, game shows, and the like. A lot of the album consists of a '50s high school movie parody that plays like Archie comics on acid. Don't Crush That Dwarf is best consumed as one 45-minute whole — and probably multiple times, to catch all the little asides that quietly populate the "backgrounds" of scenes, making this sort of the audio equivalent of a Zucker Brothers movie or Mad magazine.
Lenny Bruce | The Berkeley Concert
Lenny Bruce became a legend as the first comic to marry iconoclastic ideas to realistically R-rated language. Sure, comedians "worked blue" before Lenny Bruce, but they were just going for cheap, pervy laughs. Bruce had something to say: something numerous police departments were more than ready to bust him for. He broke down the barriers that led to the mainstream success of George Carlin, Richard Pryor, and countless other comics writing jokes about orgasms and cops. This amazing concert from 1965 is taken from his prime period, when he had shaken off the shtick-iness of his Catskills days in favor of a free-flowing stream-of-consciousness ramble, but had yet to become so obsessed by his legal woes that he would spend entire concerts dryly reading court transcripts. It's hard to synopsize the highlights, because Bruce's monologue feels less like a series of discrete bits and more like a good long bullshit session where the conversation flows easily and you're never bored.