I've slipped a few comedy albums into this column on occasion in the past, but I've barely scratched the surface of the albums you need to hear. In fact, while conceiving this entry, I came up with so many funny albums that I am going to make this Comedy Month (yeah, I know I started late, thanks) and spread all of them over 4 columns. This first batch consists of albums that are vital if you're going to claim to have any worthwhile knowledge of humor in recorded form.
The Firesign Theatre | Don't Crush That Dwarf, Hand Me The Pliers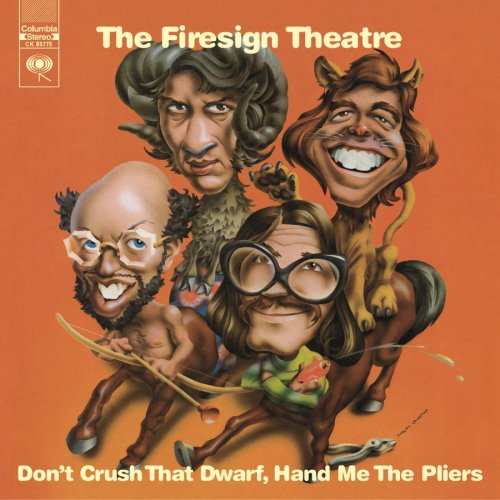 The Firesign Theatre were The Beatles of druggy, Dadaist comedy, and Don't Crush That Dwarf is their Sgt. Pepper's. The album loosely constructs its sketches around the story of washed-up child actor George Leroy Tirebiter, who watches himself on TV all night. This set-up allows the group to create bizarro-world versions of commercials (one for "Napalmolive"), televangelists, courtroom dramas, game shows, and the like. A lot of the album consists of a '50s high school movie parody that plays like Archie comics on acid. Don't Crush That Dwarf is best consumed as one 45-minute whole — and probably multiple times, to catch all the little asides that quietly populate the "backgrounds" of scenes, making this sort of the audio equivalent of a Zucker Brothers movie or Mad magazine.
Lenny Bruce | The Berkeley Concert
Lenny Bruce became a legend as the first comic to marry iconoclastic ideas to realistically R-rated language. Sure, comedians "worked blue" before Lenny Bruce, but they were just going for cheap, pervy laughs. Bruce had something to say: something numerous police departments were more than ready to bust him for. He broke down the barriers that led to the mainstream success of George Carlin, Richard Pryor, and countless other comics writing jokes about orgasms and cops. This amazing concert from 1965 is taken from his prime period, when he had shaken off the shtick-iness of his Catskills days in favor of a free-flowing stream-of-consciousness ramble, but had yet to become so obsessed by his legal woes that he would spend entire concerts dryly reading court transcripts. It's hard to synopsize the highlights, because Bruce's monologue feels less like a series of discrete bits and more like a good long bullshit session where the conversation flows easily and you're never bored.
ART OF SONG

The Powergoats
"Emily Haines (On My Car Stereo)"
Moonlit Crimes
Jampops Records (Self-Released) | 2010

I'm a sucker for clever song titles. I think it's the only reason I listened to Fall Out Boy. Oh yeah, that and because me singing "This Ain't A Scene" REALLY annoyed my friends. Anyway,  "Emily Haines (On My Car Stereo)" is not the MOST clever name for a song in the world, but it certainly paints a picture. We all know Emily Haines. At least….I hope we all do. In case you haven't been paying attention, she's a part of Broken Social Scene, lead singer of Metric , AND she has a solo career. Girl gets around.
But this isn't about Emily Haines. This is, instead, a song FOR Emily Haines by fellow Canadians The Powergoats. Lead singer Jamie Douglas is pouring on the sex with a capital S-E-X in his vocals, because he's "just a man/and you're impossibly beautiful" and the slow, almost Santana-esque guitar flares up in-between the verses.
If I had to write a love song to Emily Haines, I definitely think it would be more electronic. But this isn't my love song, and The Powergoats decided to slow it down and blues it up. The organ is enough in the background to not be a distraction, but it really adds to the overall tone of the song, the sort of late night, last call, jukebox-in-a-dive-bar feel that the entire song has. I know Emily Haines is apparently on the car stereo, but I'm imagining the bar that Wolverine is in during the beginning of the first X-men movie.
And after that sentence, I'm sure I will have no more Canadian friends.
There are some breathy Emily Haines-esque female backing vocals on the track, so if you close your eyes and wish real hard, you can almost pretend it's the real Emily. This isn't the kind of song you can really rock out to. It's slow and sensual, and honestly? You could probably slow dance to it. Just close your eyes and pretend it's with Emily Haines.
by allison levin
JezebelMusic.com @ The Bell House
March 6, 2010 | Califone, Sonoi
On a rainy Tuesday night at 8 PM The Bell House back room was nearly deserted (I was chased out of the cozy front room by a heinous comedy night), and I began to have apocalyptic thoughts: if even Califone can't pack the Bell House on a Tuesday, what is the music world coming to? Then I remembered that I'm the only jerk who shows up at eight o'clock for an "eight o'clock" show. By the time opening act Sonoi went on (nine), the house was filling up with an appreciative and slightly older crowd (median age 28 or so, but I overheard a greying dude talking about his midlife crisis beard, so there was a nice range and diversity). The audience was less fidgety and less chatty than most rock crowds, appropriate to the dusty morbidity of the headlining act.
JezebelMusic.com @ Bowery Ballroom
March 6, 2010 | She & Him, The Chapin Sisters
It was a rainy and totally miserable Tuesday. So unexpectedly rainy, in fact, Zooey Deschanel of She & Him, had to buy rain boots earlier in the day. Such was her quiet, rambling between song banter at She & Him's second sold out performance at The Bowery Ballroom. Thankfully, She & Him, with The Chapin Sisters, said rain be damned and offered up a pretty sweet and sunny show.
Opening for She & Him were The Chapin Sisters, Abigail and Lily (sans sister Jessica Craven who is on a maternity leave). Ethereally costumed in flowing white, the Brooklyn born sisters, who now reside in L.A., exuded legit Monterey hippie chic. I felt like I could have been at any assortment of gatherings in the mid to late 60s, waiting for Bob Dylan and Joan Baez to jump on stage. That being said, The Chapin Sisters are neither campy nor outdated. Their lyrics are intelligent and I was into their acoustic vibe, not to mention long blonde hair. Their gorgeous harmonies took over the ballroom, making me wonder if they actually needed the backing band briefly joined them onstage. Granted the band does flesh out some of their more folky tunes, and made for some more up tempo moments, but the Sisters truly shine on their own. Premiering a lot of new material, at one point Lily traded in her guitar for a banjo because, as Abigail commented, "Who doesn't love a banjo?" Word, sister.
More on She & Him, The Chapin Sisters @ Bowery Ballroom | 3.30.10
LIVE JOURNAL
JezebelMusic.com @ Music Hall of WIlliamsburg
March 6, 2010 | Nada Surf
It's safe to say that the Music Hall of Williamsburg and it's sold out crowd were thoroughly soaked in nostalgia on this particular evening.  At the request of Nada Surf, Sea Wolf front man Alex Brown Church kicked off the night.  Admittedly nervous without his usual backing ensemble, Church strummed through a set of bare bones folk/pop songs.  The droning minor chords and his sublime tenor invoked the feeling of autumns past.  After a few botched chords and false starts, Church met the crowd with a capricious smile that certainly matched the atmosphere.  Things began to pick up a bit when Nada Surf front man Matthew Caws joined Church on stage for the Sea Wolf favorite, "You're a Wolf".  Overall it was an enjoyable and intimate performance by an established indie rock front man.
More on Nada Surf, Alex Brown Church (Sea Wolf) @ Music Hall of Williamsburg | 3.27.10
LIVE JOURNAL
JezebelMusic.com @ Glasslands
March 6, 2010 | We Are Country Mice, Dragon Turtle, ARMS, Tall Firs
I had never seen a show at Glasslands prior to this Saturday, and have to say, despite its somewhat abandoned location, I was enchanted. As I sipped my beer, waiting for the show to start, I took the time to appreciate the excellently haphazard and whimsical space, hoping the music would follow suit. Supported by an energetic coterie of glow necklace adorned fans, openers We Are Country Mice were by far the highlight of the evening. Brooklyn-based, but mid-country reared, their sound is honest and refreshing. Sometimes twangy, sometimes vaguely surf, they're just plain fun. They won me over with "The Ballad of John," a gorgeous, harmonious country-esque rambler that breaks out into a crashing, cathartic rock song. "A Good Old-Fashioned Barn Raising" is a lot less creepy live, and come on, who doesn't love to see a megaphone appear onstage? Drummer Kurt Kuehn looks like he's having an absolute blast, as they all do. Between a xylophone cameo and some inherent scrappiness —lead singer Jason Rueger smilingly manned their merch table all night — We Are Country Mice, are for sure at the top of my small-indie-bands-I'm-rooting-for list.
More on We Are Country Mice, Dragon Turtle, ARMS, Tall Firs @ Glasslands | 3.6.10